SALAD OF NUTS AND GRAPES WITH YOGURT SAUCE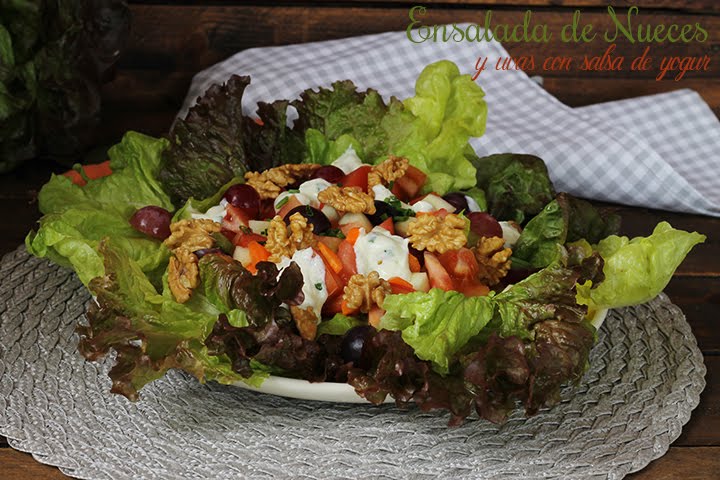 Today it's a salad and a very tasty one, although the salads are all rich or not !! Well, not everyone likes them, but I think most of them do, and to take care of them a little they are at least for me, my best ally since you never get bored because the variety is the taste and you can add almost everything Not to mention everything, this, in the time of grapes, I often love it ..
INGREDIENTS:
1 batavia lettuce
1 carrot
2 tomatoes
1 cucumber
5 nuts (or more if you prefer)
80 g of black grapes
* For the sauce:
1 plain yogurt
2 tablespoons of olive oil
4 stems of chives
Pepper
Salt
PREPARATION:
Clean the lettuce, separate the leaves and wash them one at a time, under the tap of the tap. Arrange them in a drainer and let them rest for 10 minutes so that they release the water well. Mince the small ones and reserve the big ones.
Scratch the carrot and wash it, with the tomatoes and dry both with kitchen absorbent paper. To cut the cucumber and peel it. Cut these three vegetables into small cubes and add them to the bowl of the lettuce.
Peel the walnuts and chop them with your hands. Wash the grapes and cut them in half. Remove the seeds, being careful not to break them and add them, with the nuts to the vegetable mixture.
Wash the chives and chop them often. Beat the yogurt with the oil and a pinch of salt and pepper, preferably with the manual rods, until you get a slsa. Add the chives and stir until integrated.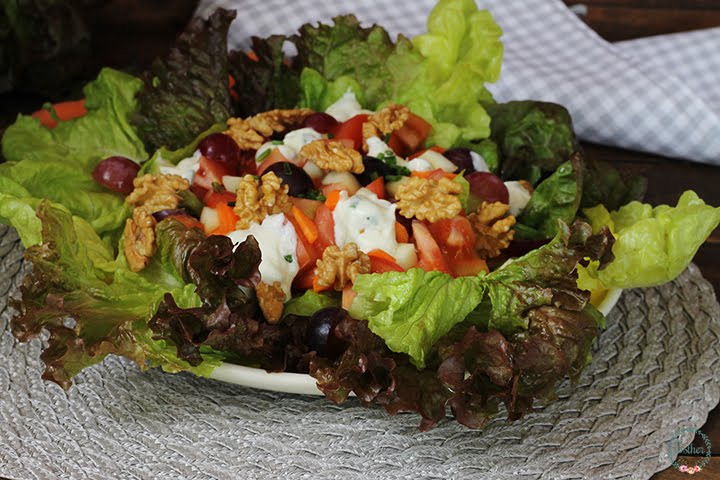 Line 4 bowls with reserved lettuce leaves, forming nests, arrange the prepared salad in the center, water with the yogurt sauce and serve ..